Overview: A VoIP provider is a company who provides Voice over Internet Protocol services, more commonly know as phone service delivered over an internet connection. VoIP providers are an increasingly popular method of delivering dial tone to 3CX Phone System.
VoIP providers who have completed 3CX's certification tests to prove their service works as expected with 3CX Phone System can be found in the drop-down menu of supported VoIP providers within the 3CX Installation Wizard and 3CX Management Console. These supported VoIP providers, organized by region, are incredibly easy to set-up and configure with most of the settings already built in. If your provider is not on the list, you can manually enter the required information as a generic VoIP provider.
To check your bandwidth's VoIP call capabilites or determine your bandwidth requirements based on your projected voice traffic, please reference this handy VoIP bandwidth usage guide.
The types of VoIP connections made from a Phone System to a VoIP provider typically fall into one of two categories:
SIP Trunk: These types of connections generally do not require registration from the PBX. The PBX's IP needs to be configured with provider, where they will route incoming calls to your PBX.
SIP Provider: These types of connections require the PBX to register to them, with an authentication ID and Password.
Configuration: In this configuration, we are going to use a supported VoIP provider in the US. Please make sure all Firewall configurations are complete, before starting: Firewall Configuration. If you are using an unsupported provider, please have all of your account & registration information handy. Please reference this link for a list of supported providers: Supported SIP Providers
Step 1: Navigate to the VoIP Providers tab, and click Add Provider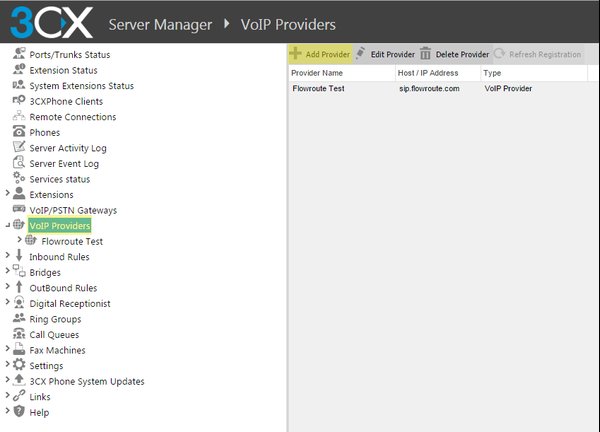 Step 2: Choose a unique name for your provider, since 3CX is fully field upgradable and it is likely that you will be expanding this phone system in the future. If you are using a supported VoIP provider, select your country and select your provider. If you are manually entering an unsupported VoIP provider, select Generic and either Generic SIP Trunk or Generic VoIP provider depending if your VoIP provider requires a registration from the PBX.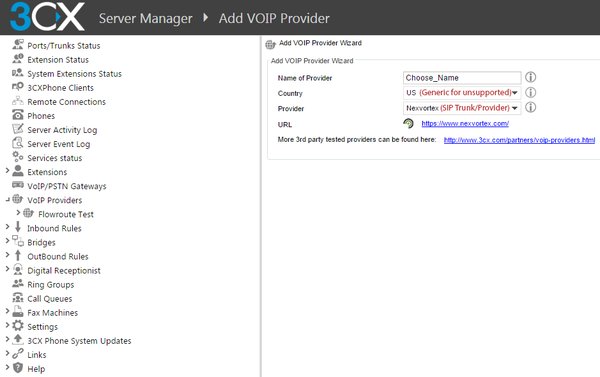 Step 3: If you are using a supported provider, 3CX will automatically fill in these fields. If you are using an unsupported provider, please reference your account & registration information.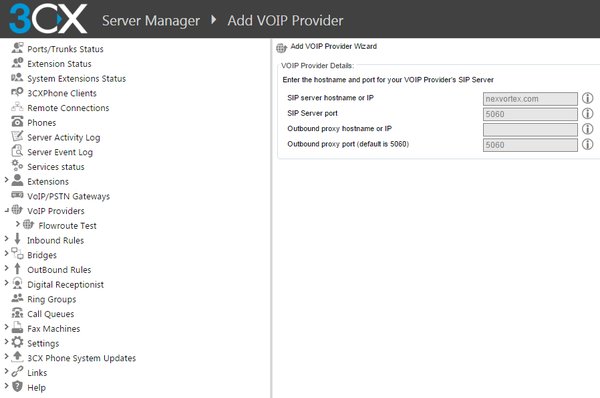 Step 4: Enter the accounts main phone number, Authenticating ID and authentication password. For SIP Trunks, you will not need an authentication ID, or password. Please enter the number of simultaneous calls you can utilize through this connection, determined by your VoIP provider. Ideally, this should be less than or equal to your 3CX license size.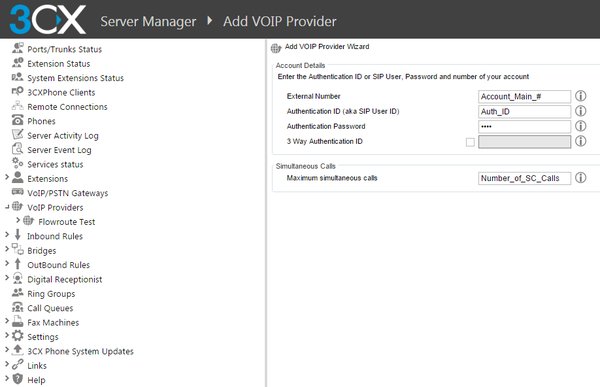 Step 5: Configure the inbound routing logic for this VoIP provider. This is for the main account number, which we will send to extension 100 both during and out of office hours. Each DID (Direct Inward Dial) number you obtain from your VoIP provider can be configured with its own inbound routing logic as well. Each radio button will allow you to route your call to any 3CX extension within its extension group. You may set a different call from for after business hours, or keep the call behavior the same. Simply uncheck "Same as out of office hours" to route calls differently outside of office hours.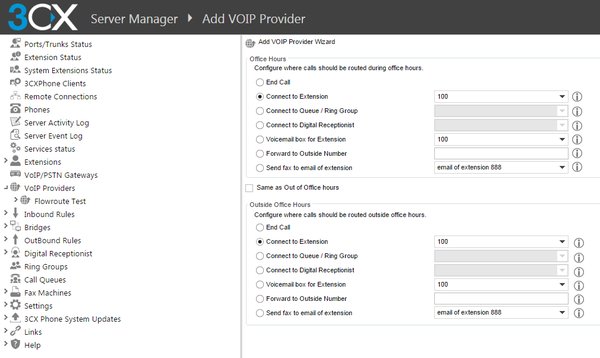 Step 6: Next, we will configure the outbound rules to tell 3CX Phone System when to route outbound calls through our new VoIP provider. Below is a good starting point, allowing all extensions to dial a 7, 10 or 11 digit number and be routed through the Provider we just created, Route 1. For best call control, you will need to set up multiple rules. You can create a basic rule now, or skip this step to design the company's entire required call flow later on.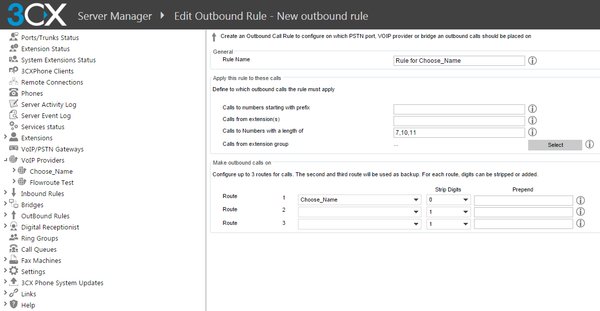 Congratulations, you have configured a VoIP Provider with 3CX Phone System!