Overview:
In this article, we will discuss how to recover a Yealink W52 handset that is not functioning properly or will not turn on even after changing the batteries. Yealink has designed a tool specifically for upgrading and flashing the firmware on W52 handsets by using a USB cable. Prior to using this software, you will need to purchase a Mini-USB to USB 2.0 adapter. 
Preparing your Computer: Prior to upgrading your W52 Handset, download the latest firmware version from Yealink. The firmware you will need to download for the handset will begin with 26.*. You will also need to download the Yealink W52x USB Recovery Tool from our Google Drive. 
Preparing your W52 Handset: On the back of your W52 Handset, you will need to remove the battery cover, verify that your batteries are fully charged and then plug in the Mini-USB to USB 2.0 adapter as seen below: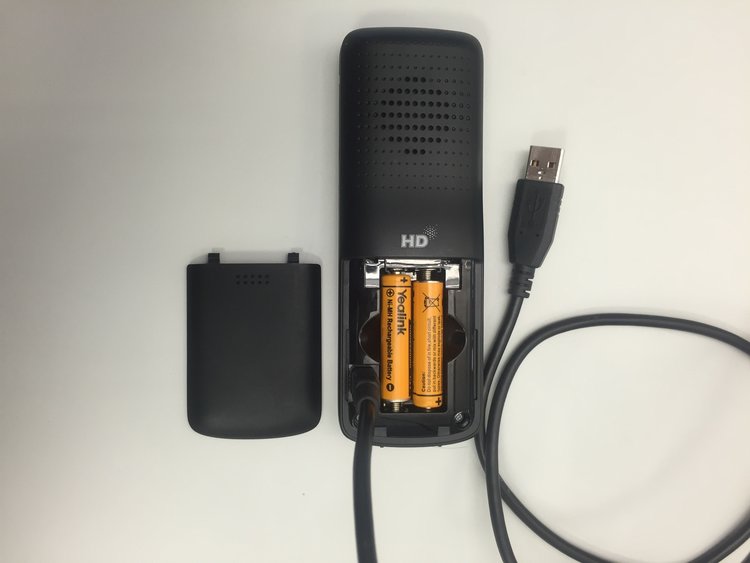 Plug the Mini-USB into your W52x handset as shown above and then plug the USB 2.0 side into your computer
Open the W52x Handset Firmware Update Tool and install the drivers
Restart your Computer after the drivers were successfully installed and disconnect the W52 handset from the USB port.
After your computer reboots, open the W52 Handset Firmware Update Tool and plug in your W52 handset into your USB port again.
Your handset will now display in the application (Note: the Device Identification listed in the Device drop down may be all 0's)
Download the latest W52 firmware from Yealinks website and extract the ROM file into a folder ( The W52H firmware will begin with 26)
Please verify that your W52 Handset is fully charged prior to proceeding to the next step or the upgrade may fail
Press Upgrade and you will see a progress bar within the application; your device will reboot after it is done upgrading.
After the upgrade is completed, your W52 will automatically restart and you will be able to verify that the firmware was successfully installed; navigate to the Menu on your Yealink W52H (press ok) and select Status -> Handset. Confirm that the Handset Firmware is the same version that you installed using the update tool.
If your device has already been upgraded to the same firmware you chose, you will receive the following message: Please verify that you have the correct ROM file selected and try upgrading again.